Investors
EchoStar Corporation (NASDAQ: SATS) is one of the premier global providers of satellite operations. EchoStar's wholly owned subsidiary, Hughes, is the world's leading provider of satellite broadband services, delivering network technologies and managed services in more than 100 countries.
Headquartered in Englewood, Colo., with business units worldwide, EchoStar is a multiple Emmy award-winning company that has pioneered advancements in the satellite industries for nearly 30 years, consistently delivering value for customers, partners and investors.
EchoStar's consumer solutions include HughesNet®, North America's #1 high-speed satellite Internet service.
Find out more about the Leadership Team that is leading EchoStar into the future.
You can receive special EchoStar Corporation News Releases via E-mail.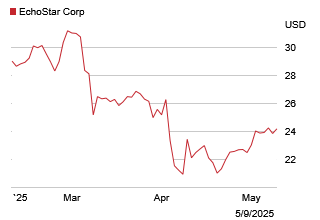 Data Provided by Refinitiv. Minimum 15 minutes delayed.
Administrative Inquiries
Inquiries regarding lost certificates, change of address and other matters related to stock certificates should be directed to our stock transfer agent, at the address or phone number below.
Computershare Investor Services:
Shareholder Services
P.O. Box 43070
Providence, RI 02940-3070
Telephone 1-877-437-8901